July 1, 2022
Carapace is out today!
My new novelette Carapace is out today in Clarkesworld Magazine 190. And you can read it and listen to it, right now, for free!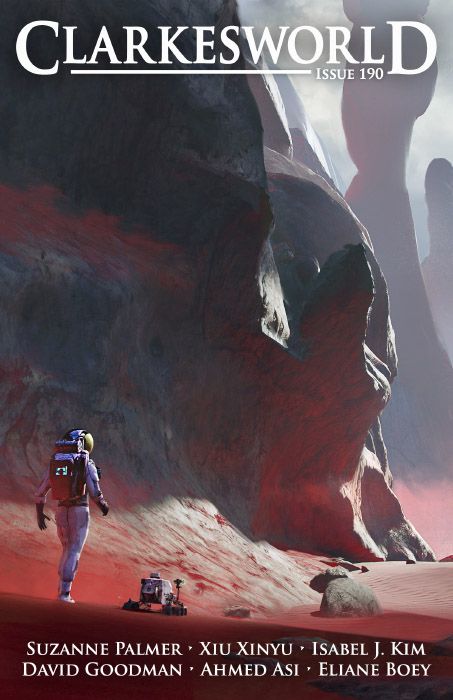 Carapace is the story of a 'combat armature' (giant robot battle suit) which becomes self-aware after their operator is killed in enemy territory. They are tasked to return to their own lines with an enemy prisoner. But the training data they use to bootstrap their self-awareness is not what they expected…
Read the story here. There will be an audio version later in July and I'll update this post when it's live. UPDATE: Here's the audio version. I'm really pleased with it! Kate Baker did an amazing job with the voice of Pal.
This is my second story to be published in Clarkesworld (my first was last December) and if I felt lucky to debut with Clarkesworld then, I feel unutterably fortunate to be selected a second time. As before, Neil and the Clarkesworld team have been a dream to work with.
This is also another absolutely stunning cover from Clarkesworld - I'm a subscriber, so I get to see these covers a day or two early on the Clarkesworld Discord, and I never fail to be impressed at the variety, beauty and quality of the cover images that Neil picks for each issue. This one is 'Red Sand Planet Sightseeing' by Hendrik Lundblad - check out the full width image, it's a stunner.
I'm also chuffed to be sharing this issue with a fellow Codexian, Isabel J. Kim, who has a pretty sweet website over here. I also can't wait to read the stories by Suzanne Palmer, Xiu Xinyu, Ahmed Asi and Eliane Boey.
Just like my last one, this story is free to read or listen to online, but you can also buy Kindle, ePub and PDF versions, or sign up for a subscription from $3. And you get to hang out in the Clarkesworld Discord server!
I really hope you enjoy reading this story - I'd love to hear what you think. Let me know over on Twitter.
fiction short stories publishing news clarkesworld
---
Previous post
What I'm up to - June 2022
Hey June, don't bring me down… This is a cross-post from my current Now page. June was a month of things coming home to roost, in good and
Next post
What I'm up to - July 2022
And off we go, into the second half of the year. This is a cross-post from my current Now page. You can also get these updates (and other