May 31, 2023
What I'm up to - May 2023
A busy and exciting month, drafting a new novel, going to events and selling short stories!
This is a cross-post from my current Now page. You can also get these updates (and other cool stuff) in your inbox by subscribing to my newsletter.
I thought April would be a hard month to top, but May has just about managed it. And it's Cymera this weekend! Woop Woop!
---
Writing
This month has been a lot in writing terms. I've definitely found, as I wend my way through the publishing industry and what it means for the business of actually writing books and short stories, that things tend to be very much like the archetypal buses - you can have months of relative inactivity, waiting and wondering, then everything happens all at once. May was definitely one of those months. June may be even more so! We shall see.
I started the month continuing my editing work on PROJECT SHARD, which is now sitting at a much healthier 138,000 words or thereabouts. The first draft of this beast clocked in at 187,000 words, which is, in debut novelist terms, A Bit Much. PROJECT SHARD was an experiment for me in very detailed outlining and the result of that experiment was 100+ scenes, all of which clocked in at 3,000 words plus. There was the shape of a good book inside the verbiage, but it was… puffy. So I've been slicing and dicing happily. I finished a runthrough on my own focused on pure word count reduction and I was in the process of running the whole book through my critique group, 2 or 3 chapters at a time. I'd anticipated doing that for May and probably most of June and July.
However! Three days into the month, PROJECT ALTHROP woke up again in a very exciting way. So I decided it was time to drop PROJECT SHARD for a while, focus on ALTHROP and get my head into the game in case the exciting conversations lead to an exciting workload change. I apologise for the euphemisms and vagueness, but until contracts are signed and things are definitely going ahead, I have to play these cards close to my chest.
In any case, I forged ahead on ALTHROP, clocking in approximately 20,000 words of new draft material across the month of May. I say approximately because this novel is the first one I'm writing with my new 4/1 working pattern (four days of drafting, one day of editing per week). I talked a bit about that pattern in this blog post. So I was writing, cutting, rewriting and deleting again. But it was a solid and productive month of drafting. After so long working on edits, it's actually really nice to be stretching my legs with a completely new thing.
In practice, I think this will be the first book I write where I'm using the 4/1 pattern the whole way through the initial draft - I started using it for The Disaster Club last year, then got Covid, panicked (for no good reason) and just drafted as fast as I could last July and August. In the end, my speed drafting/no editing process meant I had to do way more edit passes at the end, so it didn't save me any time. The watchword this year is sustainable pace in drafting. I already know I write fast, so there's little benefit in breaking myself to write extremely fast when the end result is just a book that needs more editing.
Publishing
I've decided to add a section to this here post, because a) I think it's good for my brain to separate the writing side from the publishing side and b) the two aspects of my writing life can be very different from month to month. Also this gives me a dedicated spot to get excited about events, short story sales and the fun bits of the publishing world.
This month I got a short story contract through from Analog Magazine, for my novelette Hull Run, which I wrote last year. That story had collected rejections from a couple of other places, but I felt really good about it so I kept sending it out. And I was absolutely delighted when Trevor from Analog got in touch to say he'd like to buy it.
Hull Run is a science fiction story set a hundred or so years in our future, when humanity has spread across the solar system. It follows a group of teenagers on a Venusian air-mining platform who decide, on a dare, to go out on the hull of the ship for a race. Complications, as they say, ensue. It's at heart an adventure story, but it also tackles themes of loss and grief, parental expectations, friendship and sticking by your friends. It was one of those stories that I wrote very quickly and which benefited hugely from the input of my amazing critique partners, as well as a specialist reader for the aspects of Nigerian culture and language I included in the story. I'm going to write a blog post about this story soon, once I know which issue it's going to be in.
The social highlight was the return of Fantasy in the Court at Goldsboro Books, an event that I've never been to before (it was paused during the pandemic) but which I'll definitely try to go to again. It's a big social mixer with authors, publishing folks and readers all mingling in Goldsboro's London store and (mostly, to be honest) in the street outside on Cecil Court (hence the 'in the Court' bit). I had an amazing time, getting to meet several authors I really admire (and tell them so) as well as editors and publishers behind some of the biggest books in SFF. A couple of pics: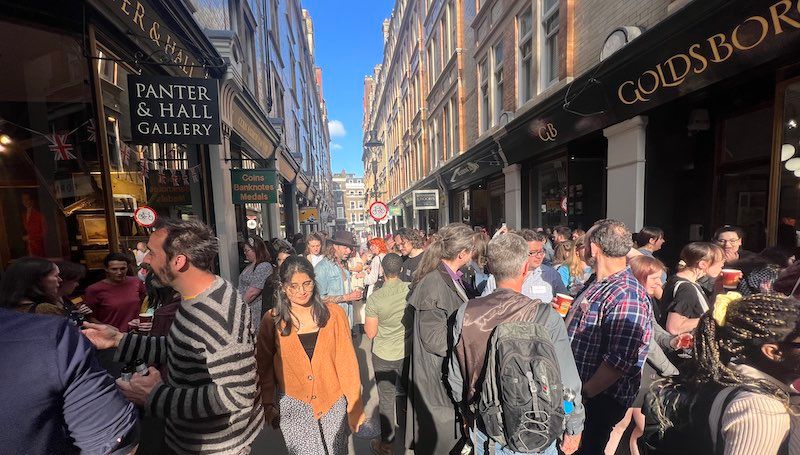 Fantasy In The Court - image from Adam Simcox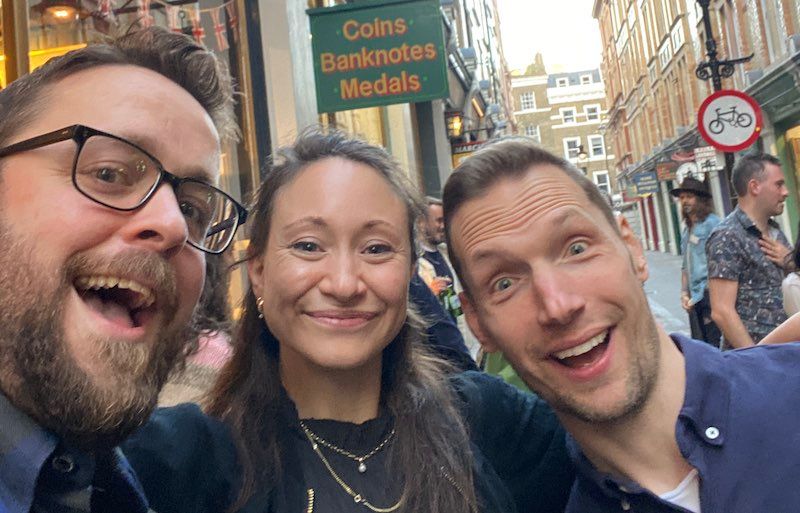 Me, editor Vicky Leach-Matteos and fellow DHH client Dave Wragg
I can't wait to go again next year!
---
Reading
I have again been hitting the short fiction hard this month. I really enjoyed a couple of stories in the 200th issue of Clarkesworld Magazine.
Better Living Through Algorithms by Naomi Kritzer was a really excellent piece of near-future

SF

, exploring the social impact of a distributed

AI

given the task to

'

make humans happier' - I loved the slow build and the very relatable reactions of the protagonist. If and when actual networked

AI

begins to fundamentally alter our world, I bet it will feel a bit like this.
The Giants Among Us by Megan Chee is a short, beautiful and evocative exploration of a strange planet where different societies exist at different scales and speeds, starting with a community that spends its winters living among the fur of a mountain-sized feline. Just a great example of thumbnail worldbuilding that instantly conjures entire societies and planets.
I've also been reading some longer stuff this month!
This Is How You Lose The Time War by Amal El-Mohtar and Max Gladstone - I'll admit it, I'm a sucker for a bandwagon. And this book had been on my

TBR

for ages (it came out in 2019). But the whole Bigolas Dickolas thing happened and I found his argument convincing, so I picked it up. And it does not disappoint. This is a book that will gleefully conjure an entire world of clockwork monks, alternate-history empires, you name it, then use it for a single scene. There's something about that kind of narrative chutzpah that I find incredibly alluring. It's a highwire act, conjuring up entire worlds and discarding them at scene's end, while the two characters, Red and Blue, dance through the wider story and with each other. Intoxicating stuff. Very recommended, although it hardly needs my stamp of approval at this point.
Hel's Eight by Stark Holborn - This is the second book in the Ten Low series, a story set on a desert moon that puts Firefly, Dune, Mad Max: Fury Road and every good Western in a blender and sets it to noir. The sequel does not disappoint. Holborn has an incredible talent for deft worldbuilding, luminous prose and convincing, gorgeously flawed characters trying to do their best in a setting so hellish it would be offputting if it wasn't so vividly drawn and populated. The first book in this series was so good it was one of the things that got me out of a two year reading and writing slump and to give this whole writing thing a proper go. The sequel, so far, is that but even moreso. Get this book now.
---
Doing
I injured my foot shortly after spending a week walking around Edinburgh (I did this last year too, May seems to be a terrible month for my ankles and toes for some reason) so I have extremely fallen off the exercise wagon.
I'm really missing my daily walks, but hopefully this coming week I'll be able to resume them. I'm a little sad because it means I missed the wonderful 2-3 week period in early May when the woods go from a few buds to leaves and flowers absolutely everywhere. But it will be really, really nice to settle back into that writing and walking routine.
On the plus side, we've made some great progress in the garden. The worms in our composter seem pretty happy with the kitchen scraps we're feeding them and we've put two new raised beds in our front garden. And we're beginning to have warm enough days to sit outside for lunch, which is extremely welcome after the greyest and coldest spring I can remember for a while.
---
Planning
It's my 16th wedding anniversary this Friday, so we'll be having a quiet night in to celebrate, since we're both in our forties.
This weekend (2nd - 4th June) is of course Cymera Festival here in Edinburgh, the best science fiction, fantasy and horror book festival on the planet. This event has been running since 2019, went online in 2020 and 2021, came back in person last year and is fast becoming a lynchpin of the genre scene in Scotland. I'll be there all day on Saturday and Sunday, including an open mic reading and a volunteering shift. If you see me, please come and say hi!
The rest of June is a bit up in the air presently, as the vague publishing thing continues to be vague. But I'm hoping by the time I'm at Cymera I'll know what's happening. I won't be able to shout about it yet, but I think the 20k progress I made on PROJECT ALTHROP in May should stand me in good stead for June.
---
Linking
So many links, so little time:
---
May felt like a metaphorical and literal warming-up for the summer. The weather improved (a bit), some exciting writing things happened (some of which I can talk about, some of which I can't) and I started to properly get rolling on a new novel draft after many months of editing.
Along with that there was a steady drumbeat of book releases from friends, my first industry event down in London in the sunshine and a lot of screaming GIFs posted in private group chats (for good and bad reasons).
Every month is a mix of the up and the down, but as the sun shines and the days continue to get a little longer, I find myself optimistic. If you're doing creative work, don't forget to give yourself a wee break now and again. We're in this for the long haul and it's important to look after your brain and body. And it's really lovely outside, make sure you get some sunlight in your veins.
In the meantime, as ever, keep reading, keep writing and keep moving.
---
If you have a question, suggestion or something else you'd like me to write about, please get in touch over on Mastodon or Twitter, or send me a message on my contact form.
---
Previous post
What I'm up to - April 2023
A delightful month of writerly community. One day late, but not a dollar short. This is a cross-post from my current Now page. You can also
Next post
What I'm up to - June 2023
Sometimes you live the month, sometimes the month lives you. This is a cross-post from my current Now page. You can also get these updates