October 31, 2023
What I'm up to - October 2023
Budapest, books and burrowing down for the winter.
This is a cross-post from my current Now page. You can also get these updates (and other cool stuff) in your inbox by subscribing to my newsletter.
October was a time for resting and planning, after a big effort on the novel. And my new story came out too! Plus I sat in a lot of thermal baths and ate some cakes.
---
Writing and editing
I've written very little in October, but that was entirely by design, after a very busy summer finishing and editing PROJECT ALTHROP. That meant zero words from October 1st to October 22nd, when we got back from our trip.
However, right before I went on holiday I made a start on a new novelette, currently titled 'Kardashev's Palimpsest'. This is a new (as in, I've never written a version of it) idea that's been kicking around in my ideas folder for a year or so and I got about 6,000 words of it at the tail-end of September. Then last week when I started writing again, I wrote about 3,000 more words, edited it and packed it off to my critique partners. It's a fairly big departure for me in a number of ways (lots of POV tricks and experimenting with a more lyrical style) so I'm looking forward to working on it with their feedback.
In the meantime, I've returned to PROJECT SHARD, which I last worked on waaaay back in March before my writing retreat in Wales. That's a finished (but over-length) epic SF novel. I'd edited about a third of it with my critique group, but I've decided I'm going to push through the remaining two thirds on my own while I await more feedback on PROJECT ALTHROP; when those come back I'll need to drop what I'm doing and get to work, so I don't want to start an entirely new novel-length project. I could just write a bunch of short stories, but PROJECT SHARD has been kicking around for a long time now and I'm keen to get it properly finished. Because there's no particular deadline for it and I'm editing rather than drafting, it'll be easy to pick up and put down over the next few months as I also work on ALTHROP intermittently. And it's a pretty cool science fictional world that I'm looking forward to revisiting after a gap of some months.
One thing I've had to become very comfortable with since I started writing seriously is the idea of, essentially, thinking about writing planning and logistics. It's amazing how quickly a year can disappear when you have a couple of novel projects, a few short stories and some other bits and pieces noodling about. I only plan my actual work out by about six weeks (following the excellent guidance in Antony Johnston's 'The Organised Writer' about work planning) in my calendar, but I have a general idea of my projects and priorities for the next 12-18 months. Although of course, that picture changes in ways large and small all the time.
New work and submissions
My novelette 'Such Is My Idea Of Happiness' came out in Clarkesworld on the first day of October and it's been really gratifying to see the reaction to it. I was actually on a ferry on my way to Amsterdam when it came out, so I managed to spend £8 posting social media links via the ship's marine 4G link in about 15 minutes. Turn off your 4G on North Sea ferries people!
When I got back from my holiday, I saw a lot of really lovely comments from people who had really enjoyed the story, calling it 'immersive', 'pacy' and, my favourite, 'written with clinical prose' (thanks Ed).
I don't have anything out on submission at the moment, but 'Kardashev's Palimpsest' should be out there come November. I also still can't talk about the other sale I made in late September, but hopefully that will be contracted in November too.
Publishing and community
I was pretty fried after my overland travels (more below) so I missed October's ESFF meetup, but I'm really looking forward to the Cymera Writing Conference on 18th November in Edinburgh.
Cymera is the organisation behind the Cymera Festival, Scotland's science fiction, fantasy and horror writing festival. This is their first time running a dedicated writing conference, and I'm really looking forward to it.
If you're a writer anywhere near Edinburgh, it's a great opportunity to meet other writers, agents, editors and book industry folks. And lunch is included! Result.
---
Reading
I read three books while I was away on holiday, then a novella once I got back. Turns out having all day to read (and deleting all your social media apps for most of the month) is incredibly effective at getting into the reading zone. I've mentioned several of these books before, but they had since been languishing on my bedside pile with a bookmark two or three chapters in. I wanted to finish them and I succeeded!
---
Doing
I spent most of October in Europe, on our first foreign holiday since 2017. It was extremely welcome. This is actually our third trip to Budapest (my fourth, I first went there at 18 years old while backpacking in Eastern Europe) because we like it so much. This time around, since we'd done most of the tourist highlights on the last two trips, we basically spend two weeks just… chilling out? It was fantastic - Budapest is a great city to just relax in. You can't walk ten yards without finding a thermal bath, an amazing coffee shop, a great pub or a wonderful bookshop.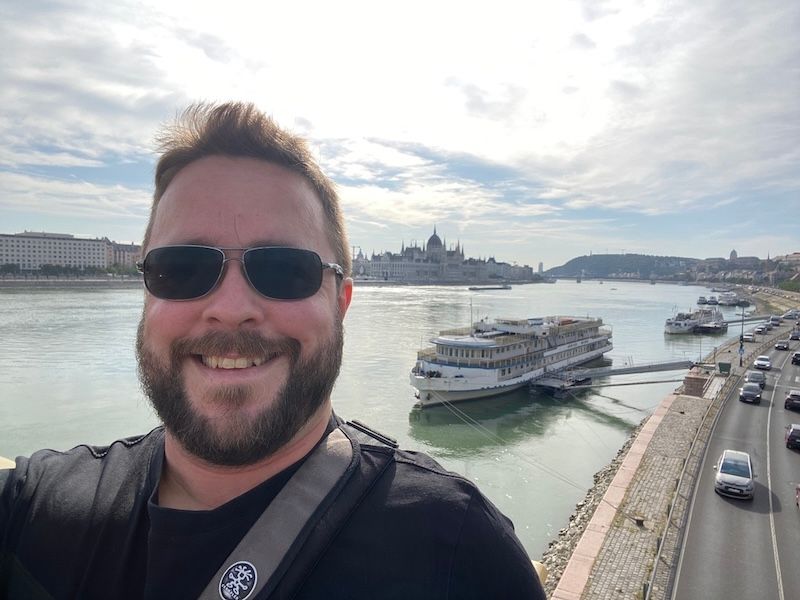 Me standing in front of the Danube in Budapest
It was also a ton of fun to revisit the city with my novelist hat on. I wrote a novel last year called The Disaster Club that is partially set in Budapest, operating mostly on memories from 2016 when we last visited. I was pleased to find I'd mostly nailed the specifics of location, as well as the general vibe of the city. And I came away with a few new ideas. The Disaster Club hasn't sold yet, but I'd love to write more fiction set in this part of the world.
Another source of inspiration was our method of getting to Budapest. I've wanted to try overland travel for a long, long time, so we spent two days getting there, including a ferry to Amsterdam, a night train to Vienna and a day train onwards to Budapest. It wasn't exactly smooth sailing (although the actual ferry crossings were mercifully calm) - we had a 17 hour sleeper train journey from Amsterdam to Vienna due to engineering works, as well as a train which flat-out didn't exist on our way to Newcastle to catch the ferry. Be careful buying split tickets to save a bit of money from Trainline, that's all I'll say.
In any case, it was a hoot and we got to visit three cities as well as seeing a lot of Austrian and German farmland and some truly spectacular mountains in the Rhine Valley. As well as getting lots of lovely details for my next spy novel. I highly recommend it as a way of getting about.
---
Planning
I don't have a huge amount of plans for November, aside from the aforementioned Cymera Writer's Conference and continuing to work on PROJECT SHARD. It is, of course, National Novel Writing Month. I won't be taking part (though I will be writing most days in November), though several members of my writing community Edinburgh SFF certainly will be, with timed sprints and plenty of mutual cheerleading.
I haven't actually officially done NaNoWriMo since I 'won' it in 2005, writing the first 50,000 words of a (truly dire) novel called Freenet. But that experience was really a watershed moment for me - it showed me that I could write large volumes of words in relatively short periods of time, and that developing a regular writing habit was essential. I then learned precisely the wrong lesson and tried to work to rigid word count targets for years, but it remains true that 2005 was the year I learned that writing could be more than just a vague ambition for me.
I have in the past used NaNoWriMo as a kind of pace car while mid-draft on a novel, but for whatever reason my last three novels have all been written in the summer. Maybe next year I'll be drafting a novel in or around November and I can play along. If you're taking part, good luck! You can do it!
---
Linking
A few links from my month's browsing:
---
One of the nice things about learning to write on a sustainable schedule is that I'm no longer scared to take a break when I need one, for fear of breaking the streak and never starting writing again (yes, I used to think this way). And the break I had in October was both very much needed and very much appreciated.
But it was still a relief to feel the impulse to write while I was away, and to get back into it when I got home. It feels good.
Now it's Halloween and we're fully into spooky season. The clocks have gone back, it's dark by five pm and I can feel myself ready to coorie down for the winter. In some ways, it's my favourite time of year, typing away in the quiet dark of the early morning. If you're doing NaNoWriMo, and you're writing in the early morning, I raise my cup of tea to you.
In the meantime, as ever, keep reading, keep writing and keep moving.
---
If you have a question, suggestion or something else you'd like me to write about, please get in touch over on Bluesky, Mastodon or Twitter, or send me a message on my contact form.
---
Previous post
Such Is My Idea Of Happiness is out today!
My new novelette Such Is My Idea Of Happiness is out today in Clarkesworld Magazine 205. And you can read it right now for free! Such
Next post
The Draft to Idea Cycle
Where do ideas actually come from? I have both good news and bad news. Image by Pixabay from Pexels I've been writing since my early