October 2, 2023
Such Is My Idea Of Happiness is out today!
My new novelette Such Is My Idea Of Happiness is out today in Clarkesworld Magazine 205. And you can read it right now for free!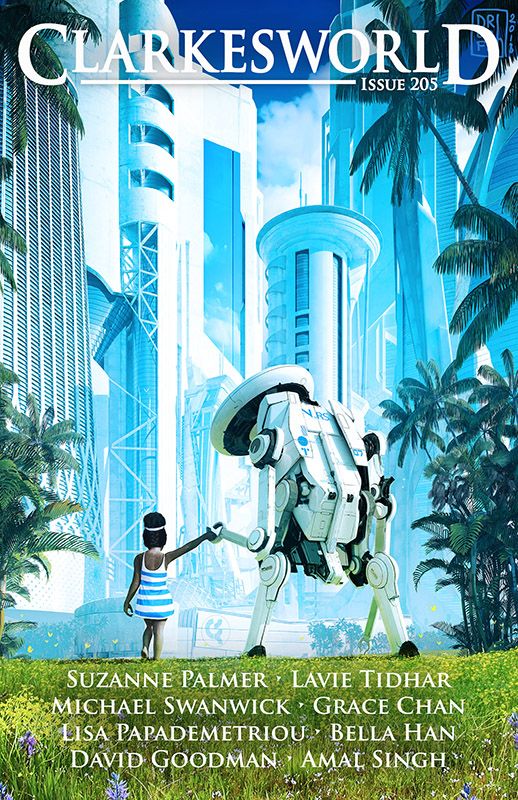 Such Is My Idea tells the story of Andrew Ferguson, a Grade I Intuiter and 'redeye'. Andrew is a permanently sleep-deprived market analyst working for the gene-edited 'Brights' who have a stranglehold on what's left of capitalism in a flooded future London. He is preparing for the 'Grade II' assessment, where he will be allowed to sleep for four whole hours each working day, while his dreams are extracted and analysed as creative and innovation feedstock. After a disturbing incident with a Bright, he's approached by a mysterious woman named Arabella, who tells him there is an alternative to the hollowed-out life he currently lives.
This is my third story to be published in Clarkesworld (you can find the others here). I'm not sure what it is about my work that Neil and the Clarkesworld team like, but I'm delighted they have bought another story from me.
I'm also sharing an issue with some incredible writers, including both Suzanne Palmer and Amal Singh for a second time, as well as Lavie Tidhar, Michael Swanwick, Grace Chan, Lisa Papademetriou and Bella Han.
All of my Clarkesworld stories are free to read or listen to online, but you can also buy Kindle, ePub and PDF versions, or sign up for a subscription from $4. And you get to hang out in the Clarkesworld Discord server! Clarkesworld relies on paying subscribers and took a hard hit from the cancellation of Kindle Magazine subscriptions in September, so there's never been a better time to subscribe.
I really hope you enjoy reading this story. I'm on Twitter, Bluesky and Mastodon, so please feel free to let me know what you thought of it.
fiction short stories publishing news clarkesworld
---
Previous post
What I'm up to - September 2023
Finishing a novel and taking a break. This is a cross-post from my current Now page. You can also get these updates (and other cool stuff)
Next post
What I'm up to - October 2023
Budapest, books and burrowing down for the winter. This is a cross-post from my current Now page. You can also get these updates (and other